When you upgrade to Windows 10, in most cases you will have the option to save your personal files and applications and move them to Windows 10.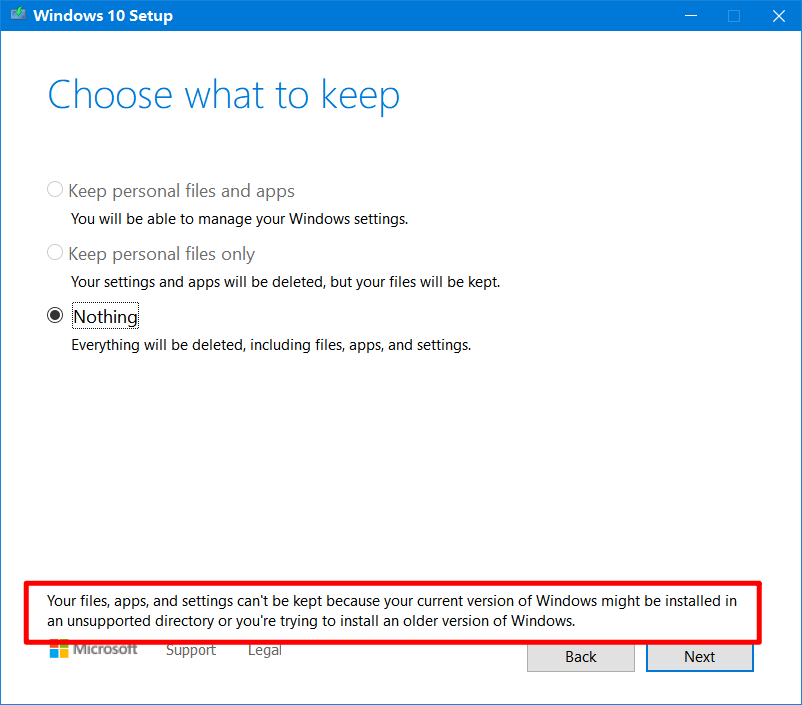 Unfortunately, some users report that they cannot save Windows settings, personal files and application error messages when upgrading from Windows 10.
You can't save your Windows settings. Personal files and apps. An error message can prevent you from saving files when you upgrade to a new version of Windows.
This can be a big problem, but there are some things you can fix.
Change registry settings
Editing the registry can solve the problem. To do this:
Run the registry editor – regedit.exe;
Go to the registry section HKEY_LOCAL_MACHINE \ SOFTWARE \ Microsoft \ Windows \ CurrentVersion.
Find the ProgramFilesDir registry entry. It must contain the full path to the directory where the system's Programs folder is located. If your system is installed on the C: drive, the value of this parameter must be C: \ Program Files. If the system is installed on a different drive, the path will be different, e.g. B. E: \ Programs;
Change the value of this parameter to include the full path to the program directory in your Windows 10 installation.
Similarly, check the values of the following parameters: ProgramFilesDir (x86), ProgramFilesPath and ProgramW6432Dir. If Windows 10 is installed on the C : drive, the following paths must be specified there: ProgramFilesDir (x86) = C: \ Program Files (x86)
ProgramFilesPath = C: \ Programs
ProgramW6432Dir = C: \ Program Files
Close the registry editor, restart your computer and restart the Windows 10 Update Assistant.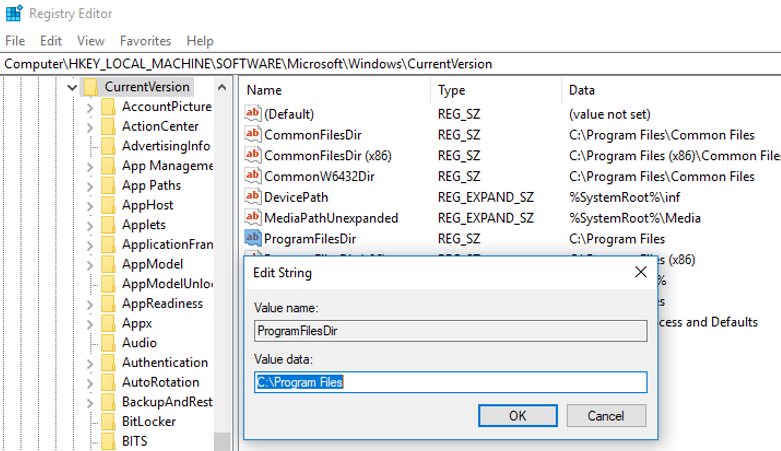 Also make sure that you have not redirected the standard Windows application folder or user profile directory (C: \ Users ) to another drive using symbolic links. This can also cause this problem.
Initial file moved
Have you ever moved your Users folder? The "Users" folder refers to the folder located in "C: \ Users \" which corresponds to your account. If this folder does not exist, Windows may not be able to find your backup files before reinstalling. Try putting that folder back where it belongs. Otherwise, you have no choice but to manually back up this folder and perform a clean installation.
Inconsistency between the current version and the installation media
For some users, there are differences between the versions of the installation media and the installed Windows. For example, you cannot use Windows 10 Professional installation media to properly install Windows 10 Home. Also, check if your Windows is monolingual or not. The problem can also occur if you use 32-bit installation media on 64-bit Windows or vice versa. Make sure that the installation media and the current version are in the same category of Windows variants. You can see most of the information about your computer by right-clicking the "This Computer" icon and selecting "Properties." Also, use the official Windows installation media creation tool to complete the installation.
Check the language of your system
Press the Windows + X keys and select Command Prompt (administrator) from the menu.
When you start the command line, type:
DISM / online / get-intl.
You should see the language of your operating system in the "Language" section of the system's default user interface.
Insert your Windows 10 DVD and boot your computer from there.
Select the Restore option and go to Troubleshooting > Advanced Options > Command Prompt.
When the command prompt starts, type the following and press Enter to start it:
DISM / image: C: / set-uilang: en-US
This will set your system language to en-US and you can save your files when you upgrade to Windows 10. If en-US doesn't work, you may need to set the language to match the Windows 10 ISO language.
You can't get Windows settings, personal files and applications if your system language doesn't match your Windows 10 ISO language. To change your system language, proceed as described above.
Even if you can't keep personal files and applications because they are inactive, things shouldn't stay that way for long.
Personal files and folders are very important. If you can't keep your Windows settings, personal files and apps when you install Windows 10, try a few solutions.
As always, you can find more questions and suggestions in the comments below.